The uncertainty that dominates in general terms also conditions the future of mobilityas evidenced by the analysis table organized on the occasion of the presentation of Auto Mobility Trends By Metyis 2022. Habits and means of transport are changing, but the the car will continue to play an important role in new mobility although it will have to share space or even give it up in some areas, according to the conclusions expressed by representatives of dealers, sellers, workshops, micromobility companies and electrification and analysis platforms.
---
The Barometer of automotive mobility trends 2022 By Metyis and Global Car It can be viewed in its entirety at this link.
---
The presentation of the third edition of the Auto Mobility Trends By Metyis Barometer corresponding to 2022 presented an analysis panel focused on distribution and mobility. Precisely, among the conclusions of the study, it emerges that 71% of companies in the sector maintain or increase their investments, very focused on the changes that drive the process of transformation in the way people move from place to place. other.
The electric vehicle attracts investments from 52% of automotive and mobility companies, followed by new mobility platforms and the connected vehicle (each with 18.5%), shared vehicles (15%), driving autonomous (13%) and personal micromobility (12%).
The panel of industry executives and analysts included the participation of Raúl Palacios, president of Ganvam; Arturo Pérez de Lucía, director of Aedive; José Ignacio Moya, director of public and legal affairs at Faconauto; Jaime Armengol, Mobility City sector manager; Jaume Roura, president of Fecavem and UPM; and Antonieta Fernández, vice president of legal affairs and innovation at Reby. The moderation was carried out by Ana Montenegro, journalist and delegate of Coche Global in Madrid. We reproduce below some of the reflections raised during the debate at the table.
Jose Ignacio Moya (Faconauto)
"As dealers, we want to be protagonists of change, not mere spectators. Companies are working on it with three fundamental axes: electrification, digitalization and investment in charging points. All this with a very strong investment in training, qualification and new professional profiles What we need for all this is a minimum legal framework to support these investments.
"We are optimistic about online sales. There is interest, but physical purchases remain very important."
Raúl Palacios (Ganvam)
"We are facing a new economic model. Distributors, dealers and workshops have to think about the role we will have. We are facing a panorama with a lot of uncertainties in the new mobility. In a digitized and connected world, what role will dealers have "We are no longer essential."
"We have to rethink our business model to know where we can add value to the end consumer. We are not going to disappear because the car will always need an after-sales point, a delivery point, 'showrooms '… but the business model based on the transactional end with the customer will disappear'.
"We need to offer people a diversity of products, from buying, sharing, pay-as-you-go."
Arturo Perez de Lucia (Aedive)
"The electric vehicle is an axis of energy efficiency because it is a sustainable mobility, it does not generate any emissions in its propulsion and according to the energy mix it will be more or less decarbonized. In Spain it was 70% without CO2 emissions last year. "
"Mobility is a variety of solutions. It makes me sad because it seems that we have to give capons to the automotive sector. Without the automobile, we would not be where we are, with the industrial weight it has . "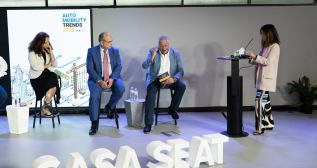 Antoinette Fernandez (Reby)
"One of the important vectors is that of 'sharing'. Ownership is no longer necessary. New consumers buy use. In this way, we will not have to produce so many vehicles. It will be mobility in which the vehicle will be shared."
"Reby produces 'shared' vehicles, we are operators in cities and we are a technology company that develops a mobility platform. We have nothing against cars, but in cities like Barcelona and Madrid they have to be prohibited because the levels of pollution are intolerable. It must be done when it is incompatible with health.
Jaime Armengol (Mobility City)
"There are sectors that know how they got into the new mobility but not how they are going to get out of it. Those who sell cars don't know if they will sell kilometers, those who have a shopping center don't know if it's going to be the service station of the future or an electric station It's a new verbena in which the dance partners are not established but everyone will look for this environment Analysis and study and advice from the Administration are necessary. The Sustainable Mobility Law can clarify things. New things will come, such as the payment for the use of infrastructures".
"We must face the processes of debate in a situation of change with honesty and in the face of our contradictions."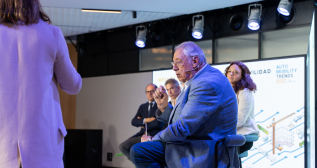 Jaume Roura (Fecavem)
"We can't lose all our history related to the automotive industry because of the precipitation. The changes are marked by Europe, but we have to do things in a realistic way. We have to be clear whether the leaders are going to let us drive on city streets, because if you can't, why are we going to make cars?"
"Spain needs a market of at least 1.2 million units of passenger cars for all the factories to work, to renew the parking lot and for its safety and to look to the future."
"Resellers are the link in the chain between the brands and the end consumer and we are companies that will sell what is made. We will adapt because we have suffered all our lives, but we must set the record straight."
"Our sector employs more than two million people. This is a very important number and we must take care of it and respect it. We are not saying no to a transformation, but let's do it in consultation. decisions without weighing the consequences.